Needle epilation/
Electroepilation
The difference from other methods
Needle epilation or electroepilation is also one of the methods for permanent hair removal. Unlike photoepilation techniques, this technology works with electricity. Therefore, no light impulses are used, which are transported through the hair to the root. Rather, a fine needle is inserted into the hair canal and pushed to the hair root. Placed there, a pulse of electricity is delivered to the hair root. This represents a significant difference from the other treatments.
The great advantage here is that all hair colors can be treated. Red or white hair is no difficulty here.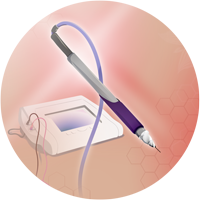 The treatment
Procedure
During needle epilation, each individual hair is treated and removed along with its root. A fine thin needle is inserted into the hair canal and guided to the hair root. Once the needle reaches its destination, an electric pulse is delivered to the hair follicle, destroying it. After that, the hair root can no longer regenerate. Hair can no longer grow back. The hair that is still present is then pulled out with the tweezers, but cannot come back.
Fields of application
Through this method, a very targeted treatment of individual areas of the body is possible. Even the smallest areas can thus be treated. Due to the precise development of the energy directly at the hair follicle, surrounding areas are not damaged. The advantage is that even tattooed areas can be treated. This is because, unlike photoepilation, the needle applies its energy directly to the hair root and does not have to travel over the hair first.
To note
Before treatment
Unlike photoepilation techniques, where shaving is recommended before treatment, this is precisely not the case with needle epilation. This is because our treatment staff must treat every single hair. Of course, this is only possible if they can locate it. Therefore, a minimum length of the hair of about 2-3mm is recommended.
Therefore, you should also refrain from waxing or epilating. Only in this way can all the hairs that should also be removed be found and subsequently treated.
After treatment
Die Behandlung reizt die Haut. Daher ist es ratsam, sie bis etwa 72 Stunden nach der Behandlung ruhen zu lassen. Das bedeutet, dass die Haut nicht übermäßiger Sonneneinstrahlung ausgesetzt werden sollte. Lässt sich dies nicht vermeiden, sollte ein starker Sonnenblocker verwendet werden. Im Allgemeinen sollte übermäßige Sonneneinstrahlung für einen Zeitraum von 6 Wochen vermieden werden. Weitere Einzelheiten erfahren Sie bei Ihrem Beratungsgespräch sowie bei Ihren Behandlungsterminen.